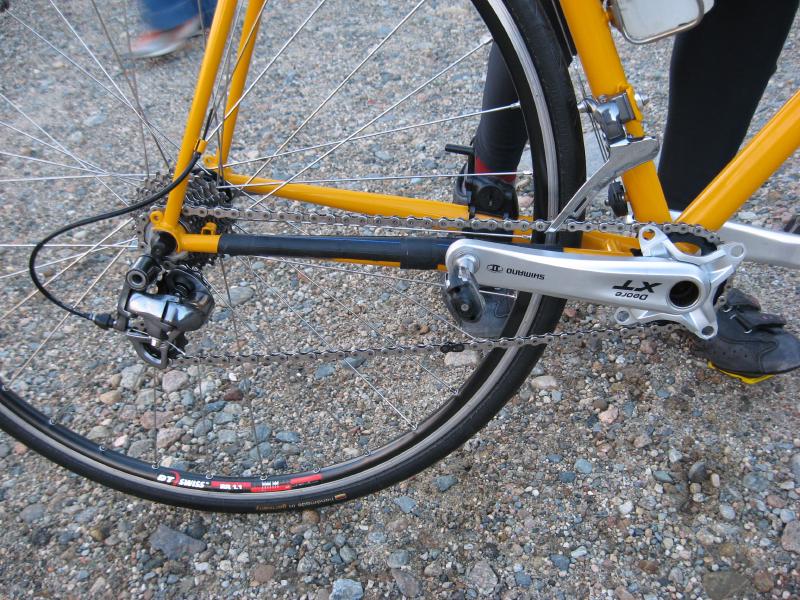 July 18 was my one opportunity to attempt Mt. Washington by bicycle before race day. I had a couple of goals in mind: finding a reasonable pace and testing my hill-climb setup.

It's worth pointing out that the ride is much too steep and long for conventional road bike gearing to make sense—an efficient cadence would not be possible. It seems like everyone has an opinion about what makes a perfect setup. Some people run with a road triple crankset up front, or maybe a compact crank. Some people install a mountain cassette on the rear wheel, which usually requires a long-cage mountain derailleur to go with it. Since I have only one road bike, and re-tuning derailleurs is not my idea of a great time, I came up with a different configuration: a mountain crankset, holding only a 22T chainring on the front, and a conventional 12–25T road cassette (and standard derailleur) on the back. With this setup, I can achieve better than a 1:1 gear ratio. And the only parts I have to swap out are the cranks, bottom bracket, and chain! (Shame on Shimano for making road and mountain bottom brackets very slightly different.) One unfortunate consequence of having the bike configured for hill-climbing is that my top speed on level ground becomes about 8 MPH, which can be embarassing if you're actually trying to get somewhere.

We stayed at a friend's cabin in Tamworth, then drove up at the crack of dawn. There aren't many opportunities to catch me awake and alert at 5:30 AM, but this was one, as the road would close to bikes after 7:00. Bad news greeted us upon our arrival, though: in spite of the stunning sunrise and picture-perfect weather on the ground, the course was closed due to high winds. Above treeline there was a steady 55 MPH breeze gusting to 70. Apparently they will run the race in winds up to 45 MPH, but beyond that apparently people have difficulty staying upright. After much moaning and groaning and re-checking of wind speeds, it was determined that we would be allowed to ride only the first two miles of the auto road. So up we went. It was the hardest two miles I've ever biked! At least there was a bonus: we were permitted the unusual opportunity to ride our bikes back down. Wheeee!

After all the bikes had cleared the course, the auto road opened to cars. We paid the toll and drove to the top so I could study the route. Check out the day's pictures here. As you can see, the weather above treeline is just as intimidating as the slope of the road!