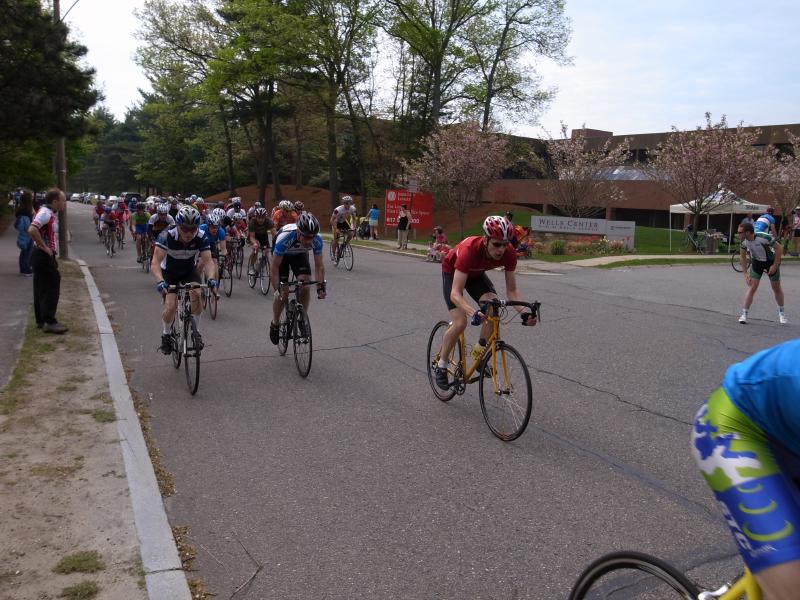 As I have mentioned, I'm trying a new sport for 2010: bike racing. For this reason, I enthusiastically took to April's NEBC Spring Racing Clinic, even when that meant renting cars every Saturday and driving all the way to Fort Devens. While the pace of the class was a little uneven, it was completely worthwhile. Two drills took me most outside my comfort zone: the water bottle pick-up drill and high-speed cornering.
"Graduation" was participation in the Wells Ave Training Criterium on May 2. A criterium is a short race involving many laps around closed-off streets. This format is ideal for spectators! For us beginners, the total distance is only 12 miles (15 laps), and it goes by fast! My bike computer recorded an average speed of 23.6 mph. The classes prepared me well, but I also followed the last-minute advice of an experienced bystander: stay to the front and the outside to avoid crashes. Good advice, I think, because there were two pretty bad wrecks. It's difficult to resist the temptation to look at them, but there is too just much going on when you're nearly rubbing handlebars and wheels with a dozen other people.
I was getting excited about being near the front, since by the penultimate lap I had worked myself up to 3rd or 4th place. But suddenly, the guys who I had been following dropped back, and I found myself leading the last lap—with the wind in my face and legs starting to tire, not a great situation to be in! After a surprise last-minute encounter with a car on the course, the finish line came into view, and suddenly 5 or 6 guys slingshotted around me. I started my sprint. It was too late to catch the guys who passed me, but I manage to get my speed up to 36 mph, fast enough to keep the rest of the pack from passing. This left me somewhere in the top 10 (out of 39), close enough to feel like a success but not high enough to appear in the race results.
As we were finished, an ambulance showed up to attend to the two crashes. One was caused by overlapped wheels, and another guy had been stuck on the inside of a corner was trapped too close to the curb. A little scary!
Before riding home with another Rapha-clad blogger-friend named Scott, we stayed to watch the first half of the B race. The speeds are a little higher, but most importantly, they looked so much more orderly! I have much to learn. So I'm motivated to find a team. And to keep training for my big race in August, which I will write more about in a separate post.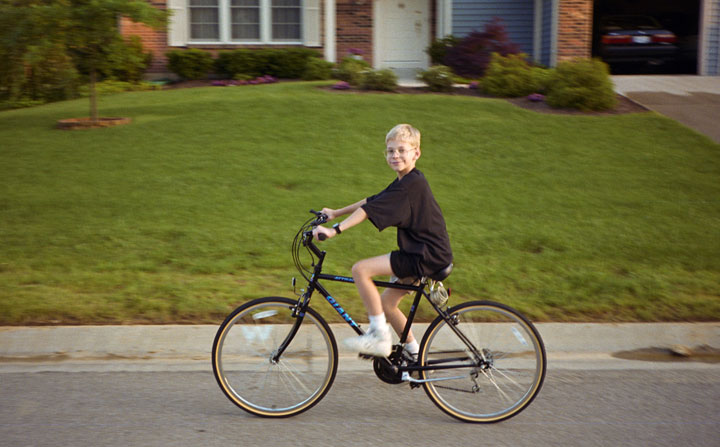 Also: it is confirmed that the Igleheart road bike I got last year rocks!
I recently found this picture of me at age 12. It's funny that it took me so many years to discover this sport, since apparently I've always had some enthusiasm for it.